François Fages
Senior Research Scientist (DR1) at:

INRIA Paris-Rocquencourt


BP 105
78153 Le Chesnay Cedex
France

Bâtiment 8, office 803,
E-mail: francois.fages @ inria.fr
http://contraintes.inria.fr/~fages

Phone: +33 1 39 63 57 09
Cell: +33 6 82 82 29 37
Fax: +33 1 39 63 54 69




Head of the Contraintes group.

Habilitation Thesis: "Aspects sémantiques et algorithmiques de la déduction automatique", Université Paris VII, Ecole Normale Supérieure, May 1992.

Doctorate Thesis: "Formes canoniques dans les algèbres booléennes et applications à la démonstration automatique en logique du premier ordre", Université Paris VI, June 1983.

Interests

I am interested in Logic and Computation and in the design of high-level modeling/programming languages.

Most of my current work deals with constraint modeling languages, from their fine relationship with mathematical logic, to new execution models and static analysis methods. The main application domains I am investigating are computational systems biology and combinatorial optimization problems.


Recent publications and talks ,

bibliography

DBLP, Microsoft Academic.


Last softwares:


Teaching

I give courses on ... Constraint Programming, and Computational Systems Biology.


at the Master Parisien de Recherche en Informatique (course C2-19) of the Universities of Paris,
and in various places like the Ecole Jeunes Chercheurs en Programmation, EJCP'2011, EJCP'2006-2005,2003-2002,2000,1998-1995,
or at the European Summer School in Logic, Language and Information ESSLLI 2001, 1997.

In a former life, I used to teach at Ecole Polytechnique, and at Ecole Normale Supérieure.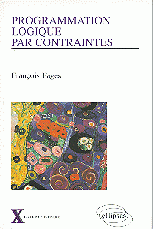 My lecture notes at Ecole Polytechnique have been edited in 1996 in a book in French, the programs are available from here .

Organizations and Conferences

Member of the Editorial Board of RAIRO Operations Research


Member of the Steering Committee of Computational Methods in Systems Biology CMSB conferences


Member of the Scientific Council of Integrative Post-Genomique IPG conferences


Member (past-chairman) of the ERCIM working group on Constraints,


Member of the AFPC (past chairman), ACP, ALP, EAPLS, ASTI (founder member, past-treasurer).


Member of the Program Committees of:
CHR'13, CMSB'13, HSB'13, ICLP'13, ICORES'13,
BPPC'12 (org.), CHR'12, CMSB'12, CS2BIO'12, FHIES'12, ICORES'12, SASB'12, WCB'12,
CHR'11, CMSB'11 (PC chair), CompMod'11, CS2BIO'11, ICECCS'11, ICLP'11, JFPC'11, MELO'11, RuleML'11, SASB'11, WCB'11,
AAAI'10 bioinfo track, BPPC'10, CMSB'10, CS2Bio'10, FBTC'10, HiBi'10, JFPC'10, PPDP'10, WCB'10
AB'09, BPPC'09 (org.), CMSB'09, CHR'09, HiBi'09, ICLP'09, JFPC'09, WCB'09,
AB'08, ATM-CT'08, BPPC'08 (org.), CSCLP08, CHR'08, CMSB'08, CP-AI-OR'08 (Conference co-Chair), EAID'08 (co-Chair), WCB'08
AB'07, CSCLP07, CMSB'07, CHR'07, JFPC'07 (PC Chair), TACAS'07, WCB'07, Colloquium in honor of Gérard Huet
CHR'06, CSCLP'06, DCM'06, RoW'06, Rule'06, WCB'06, WWV'06,
CMSB'05, PPSWR'05 (PC Chair), JFPC'05, CSCLP'05, WCB'05,
CMBS'04, FLOPS'04, JFPLC'04, CPCV'04, ICLP'04, CSCLP'04, PPSWR'04,KI'04,
CMSB'03, JFPLC'03, CSCLP'03,
ICLP'02, PPDP'02, JFPLC'02,WFLP'02, CSCLP'02, RULE'02,PTTP-RNTL,FMBR workshop of ICSB'02,
JFPLC'2001, ASTI'2001, Challenge ROADEF 2001, Musical Constraints ws CP'2001 ,
RCRP'2000,JFPLC'2000,
CP'99, PPDP'99 (Conference Chair), PLI'99, JFPLC'99 (PC Chair)
TCLP'98. PLILP/ALP'98.
ALP'97, JFPLC'97.


Extra links

Scientifical:


Mathematics
ANR Cosinus Syne2arti
OSEO BioIntelligence
EraSysBio C5Sys
ANR

CALAMAR
Initiative Action COLAGE on synthetic biology
Initiative Action REGATE on FSH signaling
European 6th PCRD STREP Net-WMS
European 6th PCRD STREP TEMPO
AgroBI INRA project INSIGHT
Cooperative Research Initiative ARC MOCA
ACI VicAnne VICANNE
European 6th PCRD STREP APRIL II
European 6th PCRD NoE REWERSE
French RNTL MANIFICO
French RNTL OADymPPaC
Cooperative Research Initiative ARC CPBIO
European ERCIM working group on Constraints



Practical:


How to go to INRIA Rocquencourt,
European railways,
Currency converter,
Phone numbers (reversed) ,
Maps and pictures of any street in Paris, Lyon, ...,
Webster dictionary,